Fresh Flowers Versus Sugar Flowers on Your Wedding Cake
Fresh flowers and sugar flowers are both popular choices for decorating a wedding cake. Each option has its own unique advantages and disadvantages and, ultimately, the decision comes down to personal preference and the overall aesthetic of the wedding.
Fresh Flowers
Fresh flowers can be a beautiful addition to a wedding cake as they bring a natural, organic feel to the design. It is usual for the florist creating the wedding bouquet and flowers for the venue to provide additional flowers to adorn the wedding cake. However, it is important to note that not all fresh flowers are edible and some may be toxic so it is important to consult with your florist or wedding cake designer to ensure that the flowers used are safe to display on your wedding cake, for example, gypsophilia (baby's breath) is toxic and should not be used to decorate a wedding cake.
Other factors to consider would be avoiding flowers with a strong scent or flowers that have lots of pollen on the stamen that could potentially fall onto the cake. In addition to this, it is important that the fresh flowers are prepared in a cake safe way before they are inserted into the wedding cake. Your wedding cake designer will know how to prepare fresh flowers in this way.
Sugar Flowers
Sugar flowers are individually hand crafted and offer a more stylised and customisable option for the decoration of your wedding cake. Sugar flowers can be created to match the exact colour scheme of your wedding day with intricate and elaborate designs created that may not be possible with fresh flowers. Your wedding cake designer will be able to make sugar flowers to the exact size required to decorate the wedding cake. Additionally, sugar flowers are edible and can last for many years, if stored correctly.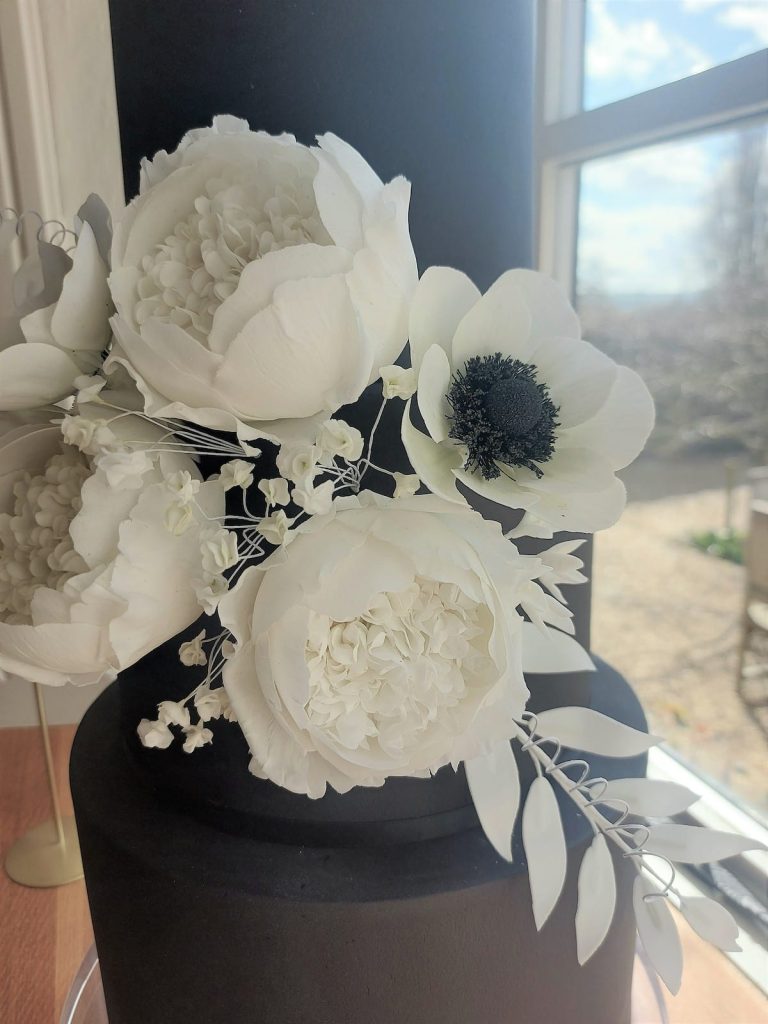 It is also worth noting that you can have any flowers you like on your wedding cake if you decide on sugar flowers as they will never be out of season, unlike fresh flowers! Ultimately the choice between fresh flowers and sugar flowers come down to personal preference and the overall design and feel of the wedding. Some couples may prefer the natural, organic feel of fresh flowers, whereas others may prefer a customisable option available with sugar flowers – this is something that can be discussed at your wedding cake consultation. Either way, both options can be beautiful additions to a wedding cake.
---